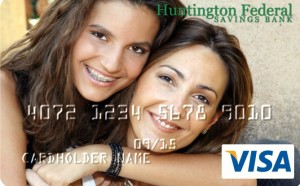 Personalize Your Visa Debit Card
You can create a debit card that reflects you and what you love. Do you have a favorite child or grandchild, or pet that you can't wait to brag about; maybe you took an awesome photo on your last vacation. Whatever it is, choose it and use it to personalize your Huntington Federal Visa Debit Card for only $10.00. The fee will be automatically deducted from your checking account. Your existing Debit Card will be deactivated 30 days after your new Photo Debit Card has been issued.
Image Guidelines and Restrictions
Uploaded images must be a minimum size of 840 x 840 pixels; be no larger than 10MB; and be in JPEG, PNG, GIF, bitmap, or TIFF format.
Cardholder supplied images and/or text should not contain political statements; advertising, promotional text, slogans, copyrighted or trademarked material; telephone numbers, URLs; brand names or branded products, celebrities, athletes, musicians, or public figures; any reference to MasterCard, American Express, or Discover; no reference to any Visa sponsorship property, such as the Olympics or NASCAR; socially unacceptable groups, provocative or sexual content, profanity, nudity, or obscenities; violence, firearms, weapons, or ammunition; alcohol or tobacco; or any content that might infringe, denigrate, or dilute the Visa brand or its member financial institutions.
Get started today! It's easy and it only takes a few minutes. Just upload your favorite photo and personalize your card using the hyperlink listed below:
Order Your Personalized Huntington Federal Visa Debit Card Now!
If you do not currently have a checking account with Huntington Federal, you can complete our New Account Information Form and submit it online. If you have any questions, please contact our office at 304-528-6209.
EXTERNAL LINK DISCLAIMER - by clicking either of the two links above, you will be opening a new browser and leaving our website.  We are not responsible for the content of the sites.